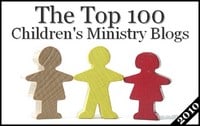 Tony Kummer and his team have been publishing Ministry-to-Children.com since 2007. In addition to the free ideas and resources, the website also keeps a finger on the proverbial pulse of modern children's ministry. One of the ways they do this is by calling attention to children's ministry blogs from a variety of individuals. And periodically, Tony assembles a list of the top blogs, a virtual library of movers and shakers in the field of children's work. The latest "Top 100 Children's Ministry Blogs" was recently released.
KidServants Log: Musings from Teacher Tim
is on the list.
This is a humbling honor in so many ways. I did not go to school to become a children's pastor; indeed, I had no real urge to get into children's ministry (although I had been doing it off and on since high school). But as the Lord transitioned me from being a senior pastor to a children's pastor, I realized I needed to become a student of ministry to kids. The classroom of the internet has become a major force in learning modern kids' ministry. And the giants of the faith, the ones I've gleaned from and whose philosophies and approaches I've absorbed and, in some cases, utilized, are on this list. And deservedly so.
I have never claimed to be in their league, so to be in the "top 100" is incredible. It is also strangely motivating, a needed kick to clarify, study, and post the benefits of my own experiences and learning.
To those who regularly read this blog, thank you. I encourage you to go to that list and check out the other sites. Thank you, Tony and the team for the inclusion.